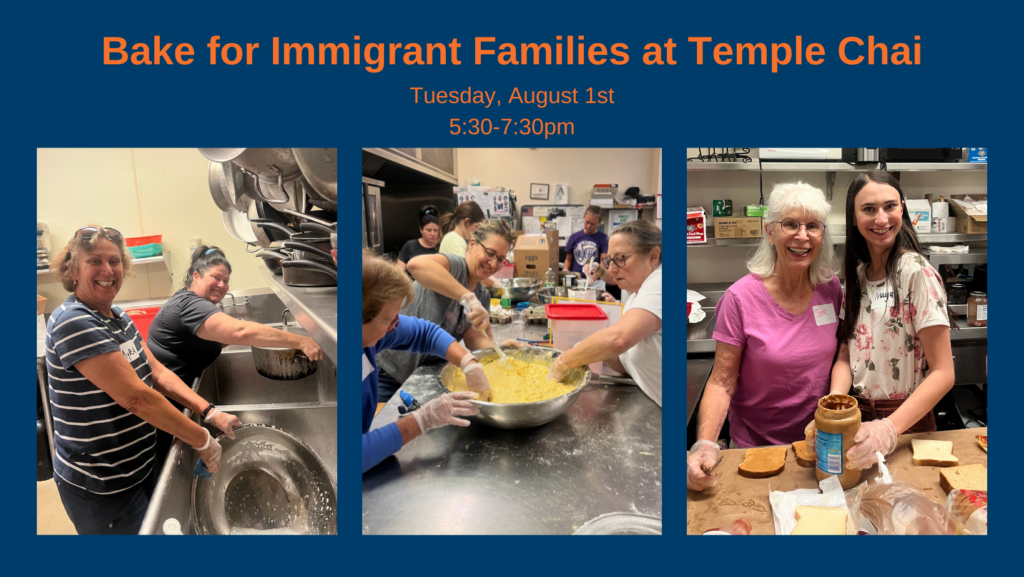 Bake for Immigrant Families at Temple Chai
Tuesday, August 1st
5:30–7:30pm
at Temple Chai Kitchen
Free dinner for baking volunteers
Ages 7+
Max: 15 spots
Sponsored by NCJW AZ and Or Tzion Congregation
Sign up HERE to Volunteer
Arizona Embraces the Spirit of Community with the August Baking Event
This summer, community members of Arizona are stepping up to express their warmth, humanity, and camaraderie in a most delectable way. This Month's "Bake for Immigrant Families at Temple Chai," organized to help immigrant families, promises to be a fruitful amalgamation of creativity, community spirit, and love for baking. The baking event will be held on Tuesday, August 1st, from 5:30–7:30 pm at the Temple Chai Kitchen.
Hosted by Temple Chai, the event will draw upon the combined efforts of volunteers from across the state. The free event is open to everyone aged 7 and above and will accommodate a maximum of 15 participants. The enthusiastic event is proudly sponsored by the National Council of Jewish Women, Arizona (NCJW AZ) and the Or Tzion Congregation.
All Skill Levels are Welcome
Bakers of all ages and skill levels are welcome to take part in this community service initiative. The shared love for baking will foster a sense of togetherness while making a positive impact on the lives of immigrant families in the area. The fact that no one leaves the event on an empty stomach sweetens the deal: a free dinner will be provided for all baking volunteers, a testament to the community spirit that defines Arizona.
Baking and Mealtime is a Tradition
The Bake for Immigrant Families at Temple Chai Event underlines the ethos of the Arizonan community – the belief that everyone deserves a seat at the table, regardless of where they come from. Baking and sharing food have always been symbols of welcome, and in this context, they serve as powerful tools to foster connection, acceptance, and mutual support.
The event encourages people to express their solidarity with immigrant families, emphasizing the idea that even the simplest acts of kindness can make a substantial difference. What better way to support our neighbors than by spending an evening sharing skills, laughter, and the warm, comforting aroma of baked goods?
There are still spots available for volunteers to sign up and contribute to this community-building event. So why not don your apron, prepare your mixing bowl, and join us at Temple Chai Kitchen on August 1st?
Let's gather to knead, bake, laugh, and spread love, one baked good at a time. Sign up today and become part of this heartwarming event. Your contribution will add a sprinkle of joy to someone's life and help make our community a more welcoming place for all.
The initiative is a glowing example of Arizona's tight-knit community spirit and commitment to supporting all its residents. The Bake for Immigrant Families at Temple Chai Event promises not just an evening of good food, but an experience that will leave a lasting taste of unity, support, and warmth in everyone's hearts.