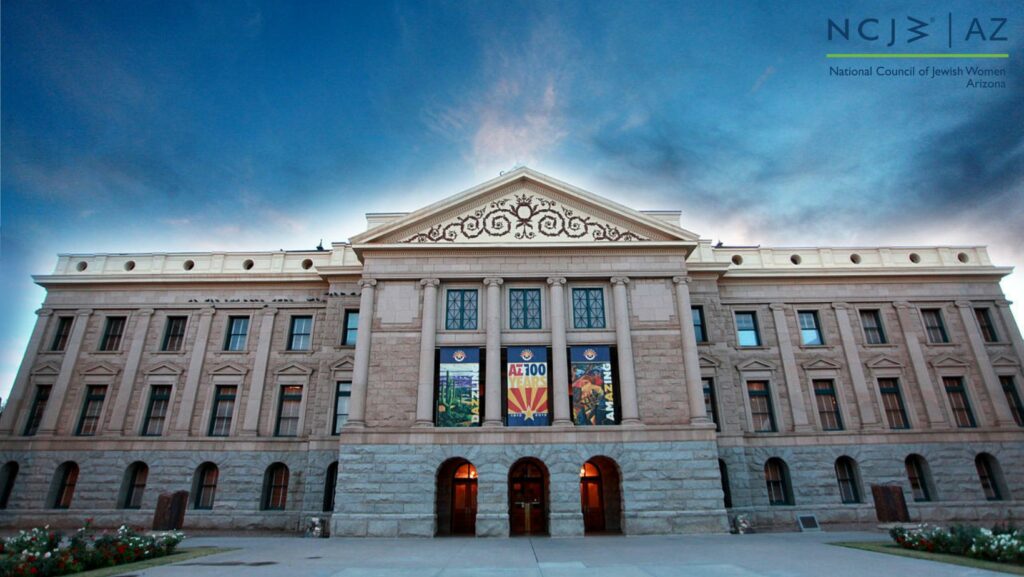 NCJW AZ Legislative Update 03.26.2023
We hope the Legislature is true to their word and that this is the final week of bills in committee. There have been so many delays this session, and yet, so little progress.
There's been no real movement on a realistic budget proposal, no fix for education funding, no progress on solutions for our water and climate crisis. Instead, we listen to the same few proposals, time and again.
As usual, there is a lot to be concerned about coming up this week. HB2305, SB1135, SB1144, SB1471, and SCR1002 are all bad voting and elections bills we must oppose. They mostly propose to solve problems that do not exist, spread myths about signature verification, insist on hand counts, and more.
Another sad obsession, drag shows and performers. Why do we need laws about this? We must urgently and loudly oppose SB1028 and SB1030. Similarly, we must resist Senator Kavanagh's attempt to create bathroom drama where there is none and oppose SB1040.
Is there anything positive happening? Yes! One example: SB1062 will allow minors, many of them LGBTQ+, to access shelter and other services they currently cannot.
Upcoming Hearings and Calendars 
03/27/2023 2:00 PM – Senate ELEC, SHR 1
HB2305 – Ballots; signature verification; observers – OPPOSE
03/27/2023 2:00 PM – House HHS, HHR 4
SB1062 – Minors; capacity to consent; shelter – SUPPORT
SB1221 – Hospitals; fingerprints; private investigators; identification (Health information organizations)
SB1285 – Obstetric services; rural communities; recommendations
03/28/2023 2:00 PM – Senate APPROP, SHR 109
HB2053 – Nurse-home visitation; program; appropriations – SUPPORT
HB2227 – Eligible organizations; registration; childcare monies (Child care monies; eligible organizations)
HB2338 – AHCCCS; preventive dental care – SUPPORT
03/28/2023 2:00 PM – Senate HHS, SHR 1
HB2001 – Department of health services; rulemaking
HB2312 – Women's shelters; male employees; liability – OPPOSE
HB2455 – Developmental disabilities; Prader-Willi syndrome
HB2469 – Fentanyl; border; public health crisis
03/28/2023 2:00 PM – House ED, HHR 4
SB1040 – Public schools; restrooms; reasonable accommodations – OPPOSE
SB1054 – Students; civics education; development program (Middle school students; civics; instruction)
SB1205 – Foster children; education; best interest
03/28/2023 2:00 PM – House COM, HHR 3
SB1138 – Business; discrimination prohibition; social criteria (Banks; discrimination prohibition; social criteria)
03/29/2023 10:00 AM – House GOV, HHR 3
SB1028 – Adult cabaret performances; prohibited locations – OPPOSE
SB1030 – Sexually explicit performances; regulation (Drag shows; regulation) – OPPOSE 03/29/2023 9:30 AM – Senate GOV, SHR 2
HB2379 – Hotel; motel; vouchers; homeless; prohibition
03/29/2023 9:00 AM – House WM, HHR 1
SB1108 – Income tax; credit; labor costs
03/29/2023 9:00 AM – House JUD, HHR 4
SB1155 – Catalytic converters; crime; classification
03/29/2023 2:00 PM – House MOE, HHR 4
SB1135 – Spoiled early ballots; election day – OPPOSE
SB1144 – Electronic ballot adjudication; prohibition – OPPOSE
SB1471 – Ballot tabulation; hand count comparison – OPPOSE
SCR1002 – Constitutional amendments; sixty percent approval – OPPOSE
03/29/2023 2:00 PM – House APPROP, HHR 1 SB1018 – Collaborative care; appropriation (Mental health coverage; collaborative care)