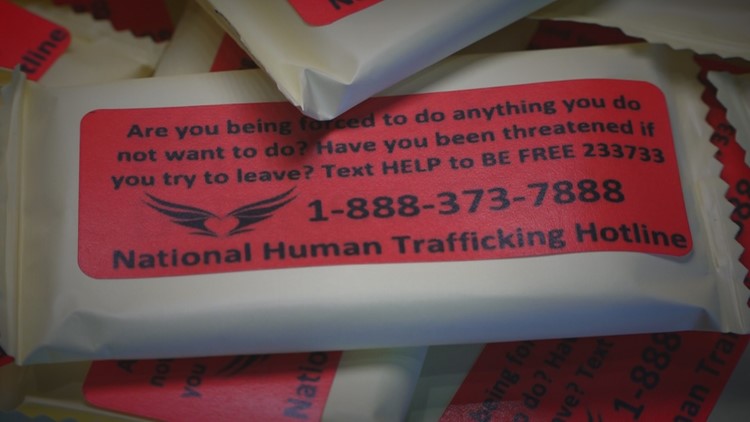 As a victim and survivor of human trafficking, Theresa Flores knew how limited the options were for communicating help to other victims. She understood all too well how difficult it was to convey a way out to those who had nowhere to turn. That's when she recalled the one item that could be used to discreetly deliver crucial information directly to victims of human trafficking and do so without compromising their safety: a bar of soap. So, Flores founded the anti-trafficking group, S.O.A.P. (Save Our Adolescents from Prostitution) to help reach other victims through messages attached to tiny bars of soap and makeup remover wipes left in seedy motels in the worst parts of town, motels that rent rooms by the hour, motels where victims of trafficking are likely to be. 
S.O.A.P.'s Mission
S.O.A.P.'s mission not only provides victims with an offer and number for help, but the outreach program also seeks to educate those most likely to encounter traffickers and trafficking victims on a regular basis. It's estimated that 80-100% of hotels and motels offered the soap free-of-charge accept it and allow trained S.O.A.P. volunteers to educate their staff on how to identify and report sex trafficking when they see it in their establishments.
Trained S.O.A.P. volunteers go to motels to deliver the labeled bars of soap and makeup remover wipes to guests' bathrooms (placing them amongst other travel-sized toiletries left on counters) with the message, "Are you being forced to do anything you do not want to do?" and the toll-free number for the National Human Trafficking Hotline — 1(888) 373-7888 — written on a label affixed to the ordinarily innocuous toiletries.
Human trafficking and modern day slavery are on the rise worldwide, including in the U.S, according to the latest State Department Analysis. In 2021, Arizona ranked 13th in the nation for human trafficking tips reported to the National Trafficking Hotline. Many large events, with raucous celebrations and crowds, are notorious for spikes in human trafficking, so particular focus is placed on high-demand events like the Super Bowl, NCAA finals, and other major sporting and political events. Since the program's inception, the National Human Trafficking Hotline reports dramatic increases in calls to their tip line during S.O.A.P.'s outreaches.
S.O.A.P. in Arizona
Phoenix is currently home to the only S.O.A.P. chapter west of the Mississippi, and with the region hosting the upcoming Super Bowl LVII in Glendale, local S.O.A.P. volunteers have been preparing to distribute soap, wipes, and educational materials to 250 area motels. Anyone interested in helping further the group's efforts can do so by either making a financial donation, by purchasing their own case of soap to label and donate back, or by volunteering to help with labeling and/or delivery of the bars. $200 covers the cost of one case of 1000 bars of soap with special labels, S.O.A.P. bags, folders, and a DVD and educational materials.
Several area events are planned to educate and equip residents to help protect at-risk children from becoming victims of human trafficking. As residents of Arizona know, tourism is big business here, and high-profile special events attract millions of visitors every year. Combating an issue like this requires awareness and involvement from the entire community.